you infuse my thoughts
and lighten my heart with your
quirky smile and kind respect
a gentle soul who can reflect
on the impact of craziness
as you care for so many
a real man with all the right attributes
unafraid to call out the violence of
fanatics who are suppressing women
in every manner …
you went public questioning their choices
their fear lead to you being goaled
guessing they will ensure you suffer
[your children cry for you]
for pointing out their vile weaknesses
just as all those who speak up or take action
have been exiled, goaled or slaughtered
fanatics who've lost their way
having used religion to vindicate
their misguided actions, men so
fearful they must oppress others
no respect for their own mothers
ignoring their own creed to justify
their wanton needy violations …
when sportspeople, chess players
academics and so many others
are marginalised for no real reason
the world watches their madness
astounded by their ignorance
for only weaklings need to suppress
misery comes from distorting their Teachings!
dedicated to Ismail Mashal and all those dealing with atrocities under current fanatical rule!
"His children have been crying – they miss him," said a member of Ismail Mashal's family. "They keep going to the gate and asking why he's not coming home."
Professor Mashal, a university lecturer and outspoken campaigner for women's education in Afghanistan, was arrested by the Taliban government on 2 February.
[this is speaking to the Taliban's treatment of women and other regimes are doing likewise; as are the Israeli's to the Palestinians; the Hindu to the Muslims; the Buddhists to the Rohingya; the Christians to their women and children … none of us are immune if we do not actively defend those wronged …]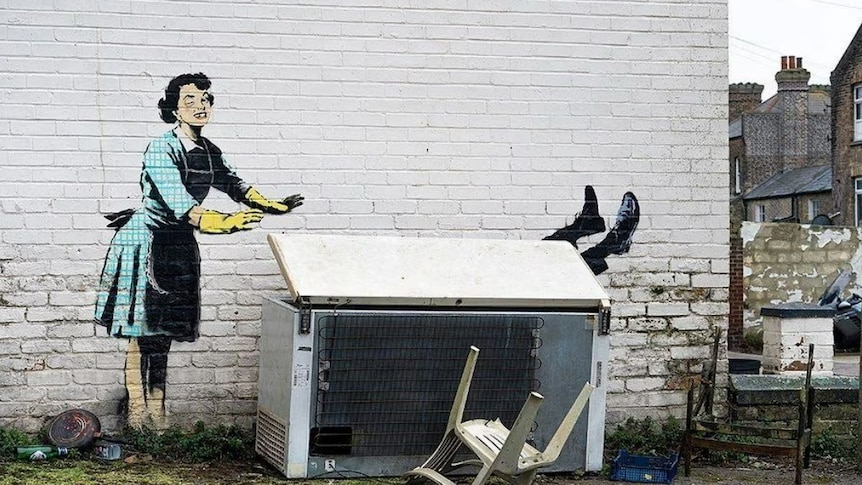 artwork by Banksy titled Valentines Day Mascara … "The British street artist's new mural shows a 1950s housewife with a swollen eye and a missing tooth apparently putting a man in an abandoned chest freezer."  ABC news